What is the Amazon Beginner Mastery FBA course?
This is the leading Amazon FBA course. It is comprehensive, easy to follow course and covers all stages from starting your new Amazon business to building a successful Amazon FBA private label business. This course is a thorough, over the shoulder walk-through that includes proven strategies, step by step checklists and easy to use tools to help you launch your first product.
Is this course for you?
My course is for those individuals who are ready to take control of their lives, escape the 9-5 rat race and reach financial freedom. Building a successful Amazon business take commitment and dedication and taking my course isn't a get rich quick scheme. What taking this course will do is give you all the training and knowledge you'll need to succeed on Amazon.
The last training you'll ever need!
When I first discovered selling on Amazon, I had trouble finding easy to follow and to the point knowledge and training resources. I had to wade through countless hours of content hoping to find a few golden nuggets. But once I had gathered enough knowledge and started my own Amazon business, I figured out the strategies to find viable products and launch them on Amazon where it quickly grew into a successful and profitable business. I shared what I had learned with the Amazon community including the methods and strategies that I had tailored to build my own business and quickly, other people also found success with my strategies. I've painstakingly organized everything I've learned and put all my knowledge and strategies inside this easy to follow course.
YOU'LL GET INSTANT ACCESS TO
13 In-Depth Modules + Bonus Done For You Content that covers the most important aspects of selling on Amazon!
Private access to my ONE-ON-ONE group for students only. You'll have direct access to Crescent and other students to ask any questions that you might have, get assistance with your journey and most importantly, avoid making costly mistakes
The proven Pay-Per-Click campaign strategy that will generate sales velocity to boost your listing rank to the first page of the search results and produce massive organic sales
​ Exact method to get the best keywords to optimize your product listing and create the best Pay-Per-Click campaigns including how to steal the exact keywords the top sellers are using!
Risk-Free 3-step product research strategy that finds profitabe products to sell and scale your business
How to create profitable Facebook ads and easily create huge Facebook and Instagram communities to generate sales, collect leads and build email lists that you can retarget and monetize
​ Access to Crescent's personal industry contacts and resources!
LIFETIME access to the course. Crescent will be continuously updating the content to always bring you the most recent Amazon strategies that work, for free!
SEE WHAT OTHERS ARE SAYING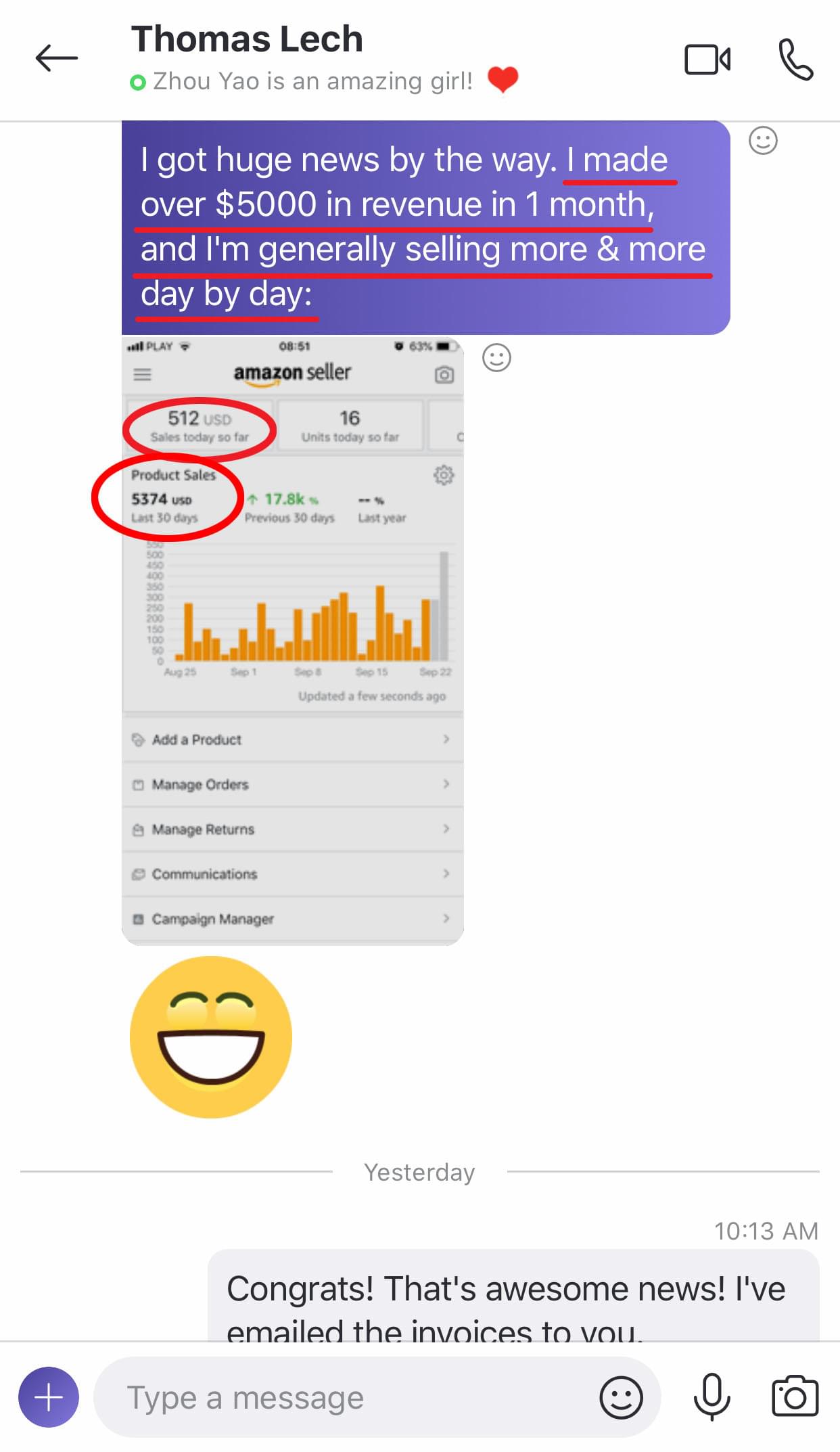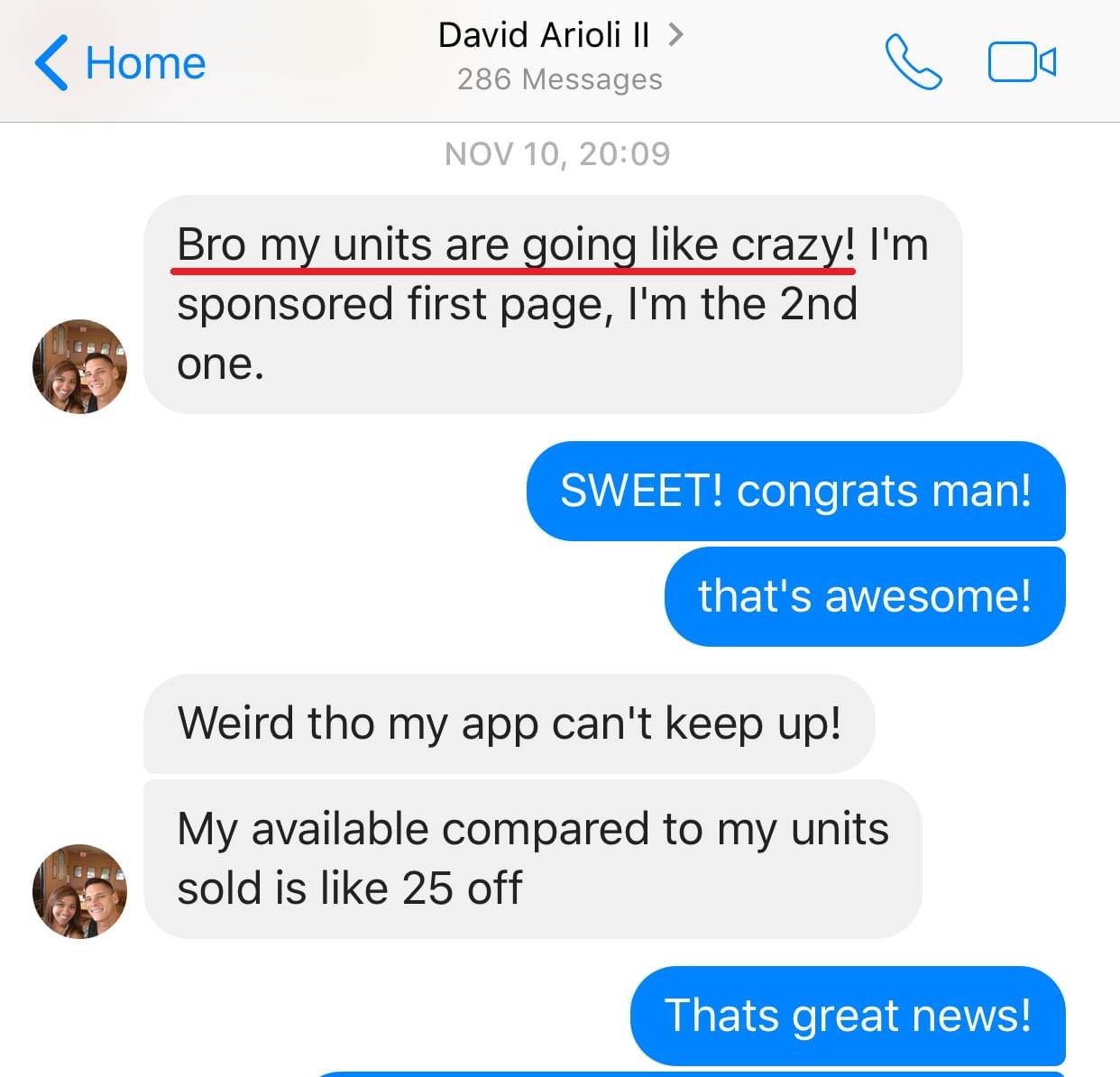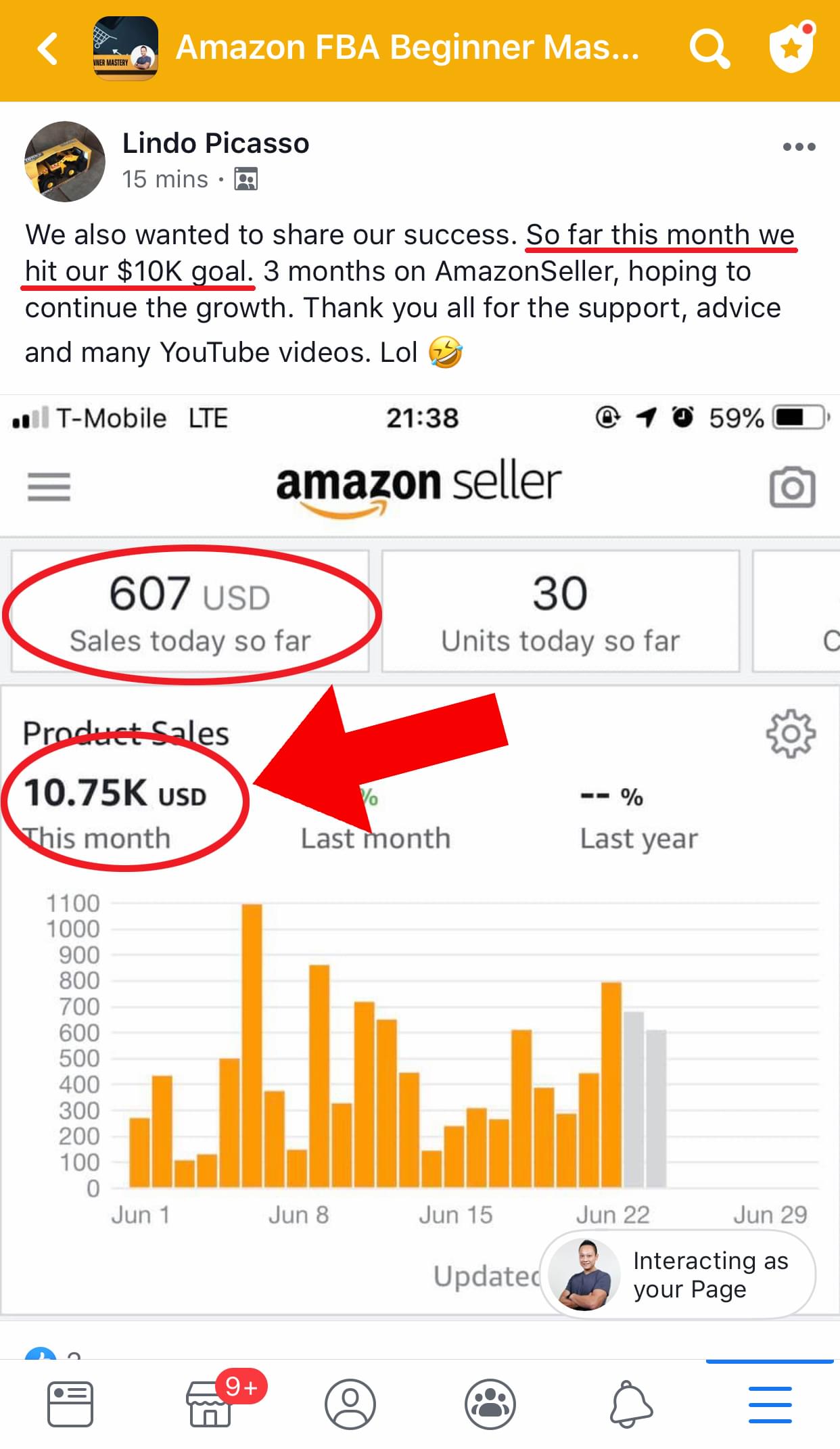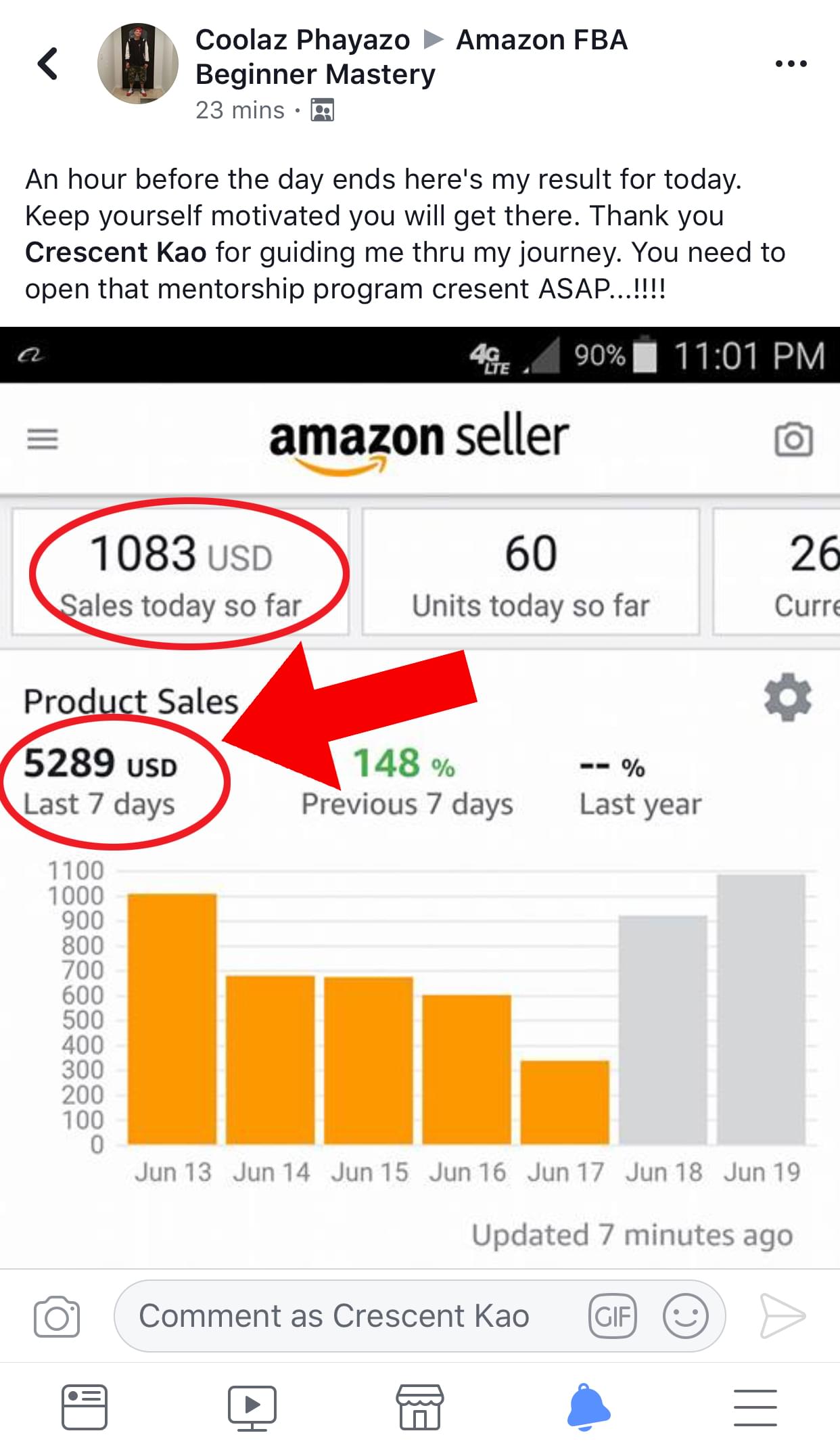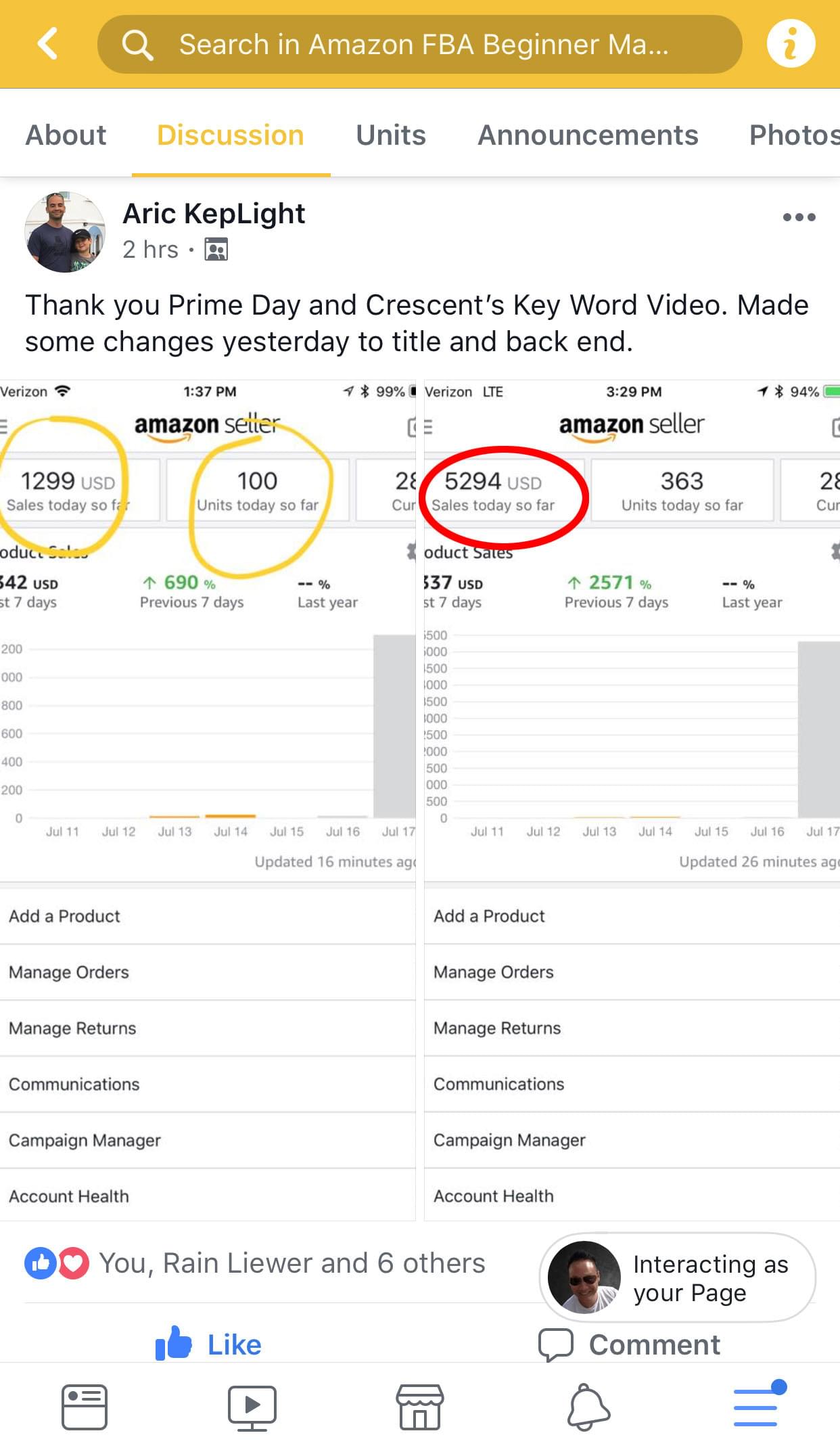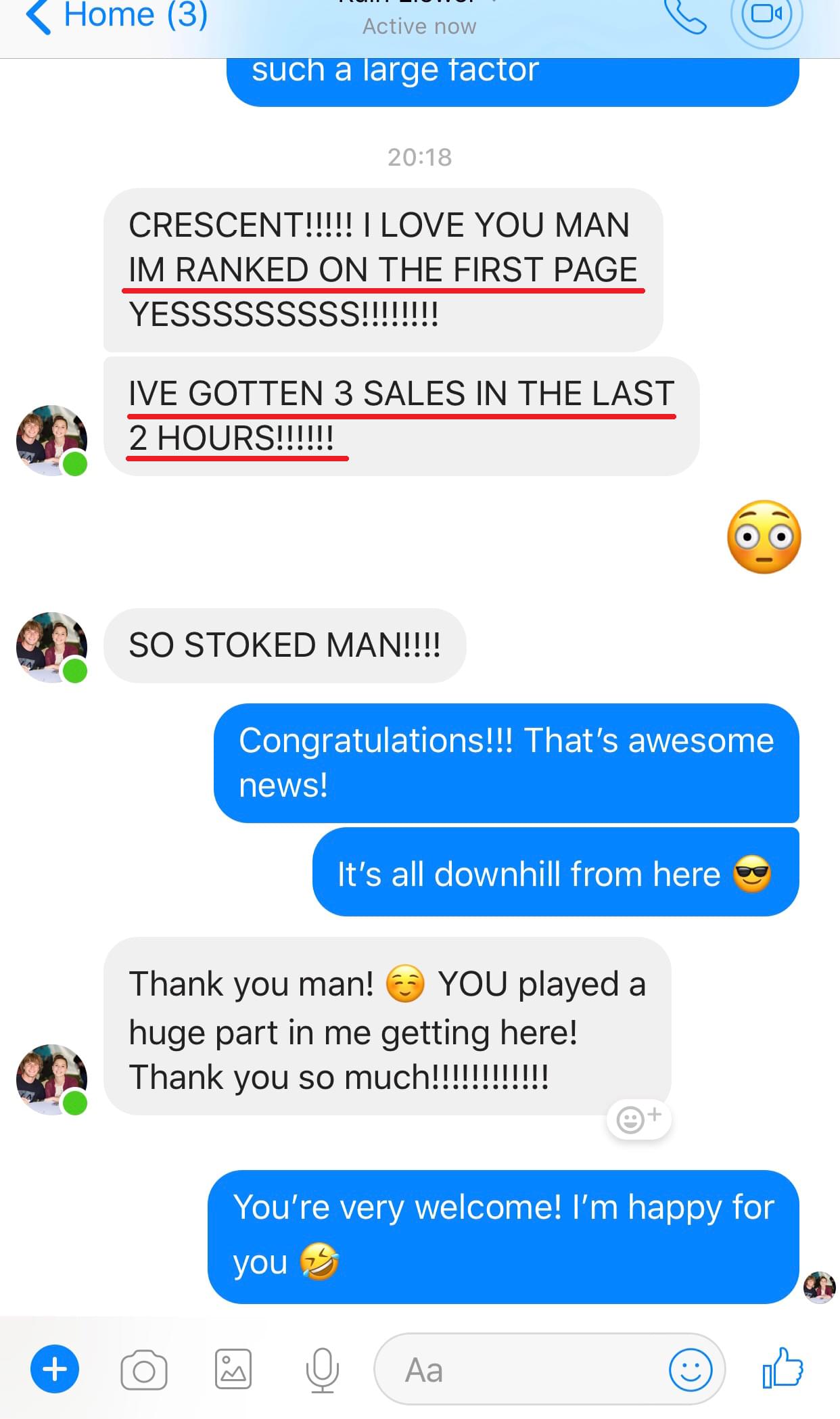 2021 Course Outline
MODULE 1 - INTRODUCTION
Welcome to Amazon Beginner Mastery
What is Amazon FBA and Private Labeling
Why Most People Fail
Learning: How vs Why
Choosing FBA vs FBM
MODULE 2 - GETTING STARTED
Setting Up a Business
Branding, Logo and Trademarking
Amazon Seller Account Creation
Understanding & Paying Taxes
Choosing the Right Amazon Marketplace
How to Sell From Anywhere in the World
What Are Gated Categories
How Much Money Do You Need to Get Started
Loans & Borrowing Money
MODULE 3 - PLANNING
Time Management
Building a Brand vs No Brand
Planning Your Income and Profit Goals
MODULE 4 - PRODUCT RESEARCH
Product Research Tools
Product Research Targets and Criteria
Product Research Methods that Work
Advanced Product Research Methods - What Other People Aren't Doing
Product Tracking and 999 Cart Method
How to Add Value and Differentiation
Good and Bad Product Examples
Product Research Data Analysis With Real Examples
How to Check for Patents and Trademarks
Checking for Seasonality & Brand Domination
Checking for Restrictions & Hazmat Review
Avoiding Competitive & Saturated Niches
Common Product Research Mistakes
MODULE 5 - PRICING, PROFIT & FEES
Pricing Strategy
Estimating Unit Costs
Calculating FBA & Storage Fees
MODULE 6 - SUPPLIERS
How to Find and Contact Suppliers
How to Find Your Competitor's Suppliers
How Many Units to Order
How to Pay Your Supplier
How to Negotiate the Best Price
How to Find Supplier's Outside of China
Keeping Track of Quotes From Suppliers
MODULE 7 - MANUFACTURING
Packaging, Labeling & Barcodes Requirements
How to Create a Bundle
Creating Custom Designed Products & Custom Packaging
How to Get Product Inspections to Protect Your Investment
MODULE 8 - SHIPPING
How to Ship Your Products from Overseas
Air vs Sea Shipping
Estimating Shipping Rates
Creating a Shipping Plan
Understanding Import Duties
Avoiding Tariffs
200 Unit Storage Limit Solutions
MODULE 9 - LISTING CREATION & OPTIMIZATION
UPC vs FNSKU Barcodes
How to Find the Best Keywords for Your Listing and PPC Campaigns
Creating a Highly Effective & Optimized Product Listing
Important Account Settings
How to Get Professional & Optimized Photos
Errors, Restrictions and Hazmat Review
Product Variations
Applying for a GTIN Exemption
How to Get Ungated
Fixing Error 5665, 5461 & UPC Barcodes Errors
MODULE 10 - PRODUCT LAUNCH
How to Get Your Listing Ranked on to the First Page
Highly Effective Product Launch Strategies
Product Launch with PPC
Product Launch with Promos & Giveaways
How to Get Reviews Without Violating Amazon's TOS
Setting Up an Email Auto Responder to Get Reviews
MODULE 11 - MARKETING & ADVERTISING
Analyzing and Optimizing PPC Campaigns
PPC Product Targeting Campaigns
How to Create Powerful Insert Cards to Get Reviews
Creating a Website
Building Facebook Groups
Using Instagram Influencers
Amazon Brand Registry & Enhanced Brand Content
MODULE 12 - ACCOUNT ISSUES
How to Prevent and Remove Hijackers
Account and Listing Suspensions
Protecting & Securing Your Amazon Account Against Hackers
Slow Moving Inventory & Liquidating
Dealing with Refunds, Returns & Other Shipping Related Issues
How to Remove Bad & Negative Reviews
The Buy Box and How Not to Lose It
MODULE 13 - BONUS CONTENT
Important Amazon Seller Dates
What to Do When Running Out of Stock
Insert Card Hack to Get Massive Reviews
New Product Research Strategy to Discover Hidden Product Ideas
Creating Profitable Facebook Ad Campaigns
How to Use Amazon to Earn Bonus Points & Rewards and Travel the World for Free
DOWNLOADABLE RESOURCES & TEMPLATES
Links to All Tools and Online Resources
UPC & FNSKU Barcode Selection Flow Chart
Step-By-Step Product Research Flow Chart
Product Analysis Check List Score Card
Steps After Product Research Checklist
Purchase Order Contract Template
Initial Supplier Contact E-mail Template
Supplier Quotes Tracking Spreadsheet
Monthly Sales and Profit Report Accounting Spreadsheet
Hijacker Cease and Desist Letter Template
Bad Products List - Do Not Do These
Product Research Excluded Keywords List
How to Get Started with Amazon FBA Private Label Guide
Frequently Asked Questions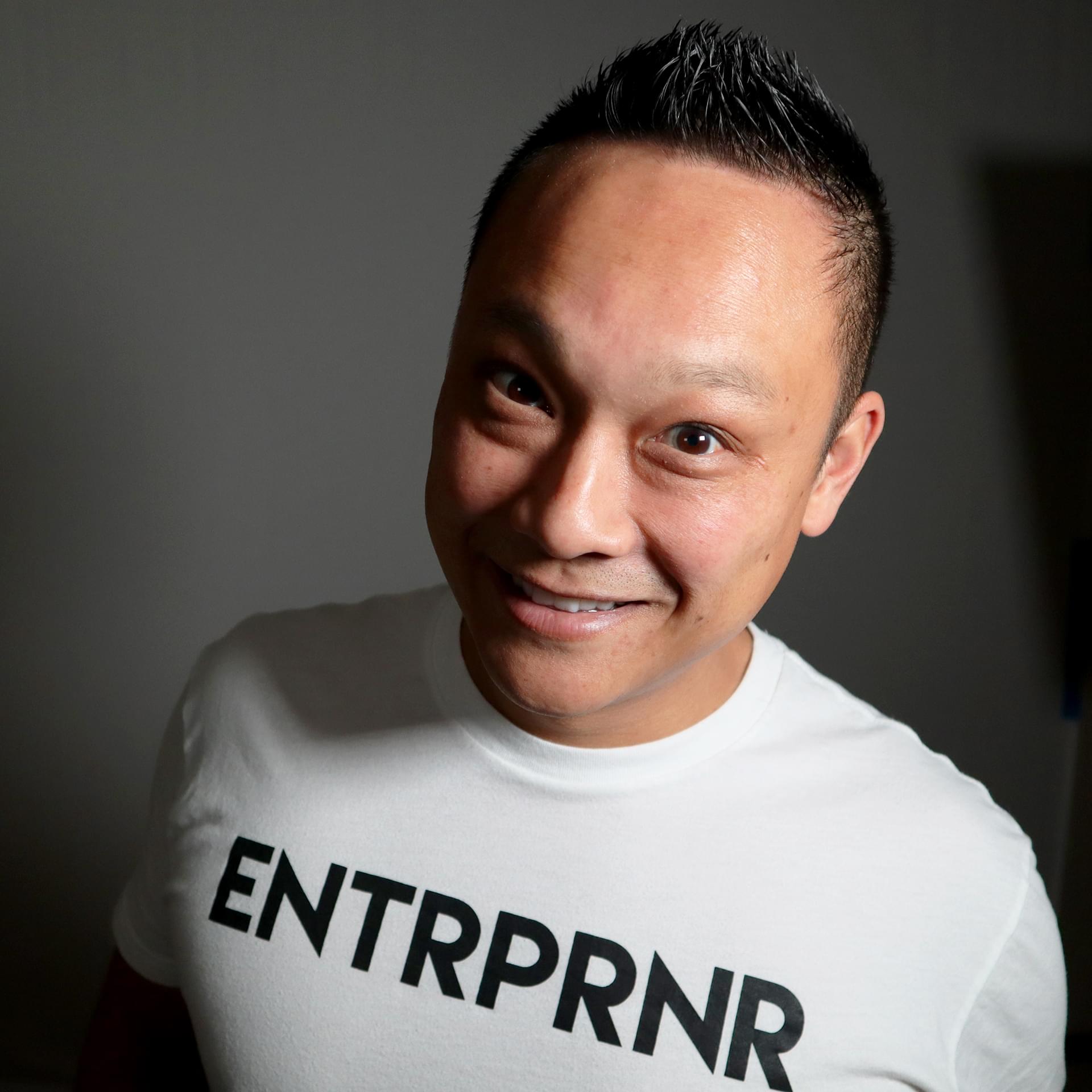 YOUR TRAINER
Who is Crescent Kao?
Crescent is a successful entrepreneur. He got his education at Western Washington University where he graduated with a Bachelors of Science in Industrial Design and Computer Science. He began his entrepreneurship when he first online business at the age of 24 which generated over a million dollars within the first two years.
Crescent started his Amazon FBA business in 2017 and recently began teaching others how to build their own successful Amazon business using the proven strategies he's tested that work.
His passion is helping others reach their goals and reach financial freedom.
WHAT YOU'LL LEARN
The best product research methods to find extremely profitable Amazon products
​The exact criteria to look for and how to properly analyze the data to validate products ideas
​The tools I use to build my Amazon business
​How to find and vet top notch, reliable suppliers including the suppliers the top sellers are using
​Effective strategies to negotiate to get the best prices and best quality product
​Ready to use contact emails, spreadsheets, forms and templates that I use to contact suppliers, track quotes, sales and profit
​How I create optimized product listings that generate sales
​How to get reviews fast without violating Amazon's terms of service
​How to properly launch your product and get your listing ranked on to the first page
​How to properly setup and secure your Amazon seller account
​How to properly package and ship your product from overseas into an Amazon warehouse including dealing with freight forwarders
​How to create profitable PPC campaigns using the latest strategies
​How to use email auto responders to get more reviews
​How to use Facebook ads, Instagram and social media to generate leads and build an email list
FREQUENTLY ASKED QUESTIONS
WHAT IS INCLUDED IN THE COURSE?
​Over 80+ High-Quality, Easy to Follow, Step-by-Step Videos and Resource Material Spanning 13 Well Organized Modules
​UNLIMITED One-on-One Coaching Through Our Private Students Only Facebook Group
​Done For You E-mail Templates to Contact Suppliers, Spreadsheets to Track Quotes, Product Research Check Lists, Sales and Profit Worksheets, and more!
​Lifetime Access to the Course So You Can Learn at Your Own Pace and Refer Back to the Material at Anytime
​Access to the Private Students Only Facebook Group
IS THE COURSE JUST FOR BEGINNERS?
No! The course is for people of all experience levels. Regardless if you're just starting your journey or if you're already selling on Amazon, the course material walks you through step by step from the beginning stages through to advanced techniques and strategies.
HOW LONG DO I HAVE ACCESS TO THE AMAZON BEGINNER MASTERY COURSE?
You have lifetime access to the course! The course material will also be continuously updated to bring you the most updated and best knowledge, methods and strategies.
WHAT IF I HAVE QUESTIONS OR PROBLEMS?
All students have exclusive access to our private FaceBook group that's for students only where you'll have direct communication with Crescent any time you have questions or need guidance. You can also interact with other students as well as reach out by email.
CAN I PAY WITH PAYPAL?
Absolutely! We accept Paypal and all major credit cards.
REFUND POLICY
Eligibility for the 14-Day Money Back Guarantee is contingent on watching less than 20% of the course material and subject to Our Action Based Refund Policy available in our Terms of Service below. No exceptions. Purchasing the course denotes that you agree to the Terms of Service